There are countless industrial operations that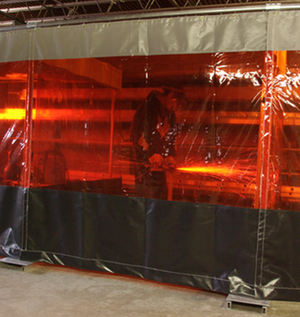 require a barrier for either safety purposes or as an environmental partition. Curtains walls protect people and property against dust, dirt, fumes, ultraviolet light, temperature, noise, overspray, odor and welding hazards.
Regardless of the underlying factor leading to the need for a curtain wall solution, your requirements and the curtain's fundamental function are what really matter. Operations such as grinding or sandblasting would require a different set of characteristics than would an operation such as welding.
With Verilon®, color, size, and vinyl specifications can all be tailored to whatever your needs happen to be. We also offer track mounting systems to meet your specific application. Trust us to keep your work environment safe, organized and hassle free.
A variety of curtain materials are available and suitable for specific applications such as:
Warehouse Dividers
Welding Booths
Machine Guards & Enclosures
Hood Extensions
Body Shop Bays
Paint Booths
Clean Room Partitions
Wash Bays
Outdoor Curtains